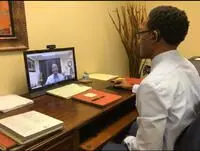 What is TeleMental Health Counseling?
Providing mental/behavioral health services using technological mechanisms (e.g. video, email, phone) while the client and clinician are in different locations. Several terms have been used to describe TeleMental Health. These terms include but are not limited to: E-mobile, web, technology assisted, online, virtual, phone, email, text, cyber, distance, and electronic. Other terms may include: Telehealth, TeleMental health, and TeleBehavioral health.
How is TeleMental Health Counseling different from "traditional" face-to-face counseling?
TeleMental health is not a separate mental health service. It is a different means of delivering and receiving the service.
Does my insurance cover TeleMental Health Counseling?
Many insurance providers cover TeleMental Health Counseling Services. Check with your insurance provider to determine eligibility.
What the benefits of receiving TeleMental Health Counseling?
There are several benefits to receiving TeleMental Health Counseling Services. Some benefits include:
Having access to mental health services, particularly if those services are unavailable in your geographic location
Having access to mental health services regardless of transportation
Being able to keep appointments on a consistent basis, increasing the probability of success in treatment